By Craig Andresen – Right Side Patriots on American Political Radio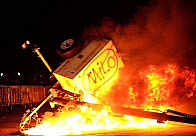 To the casual observer, ANTIFA is a relatively new entity, having first been noticed at Berkley when Milo Yiannopoulos was to have been a featured speaker. ANTIFA employed violent and destructive tactics to shut down the event…to shut down free speech.
That was February 1st, 2017.
Since then, ANTIFA has revisited Berkeley on March 4th 2017, in a supposed "protest" against President Donald Trump…on April 15th 2017, ANTIFA struck at Martin Luther King Jr. Civic Center Park in Berkeley at yet another pro-Trump rally but this was the first time they were billed as "counter protesters" by the liberal mainstream media.
On April 18th 2017, after once again threatening violence…