Tuesday, April 22nd, 2014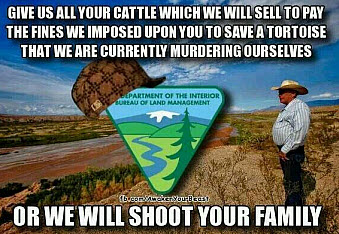 As I stated in yesterday's article, 'A Government Against the People,' taking this country back will not be an easy task nor one that can be accomplished in one election or with one president.
That is because, the problem, in this particular case, land grabs BY the federal government, is not a new issue. It's one that has been decades in the making and one which will require at least a decade to unravel.
Federal government land grabs, such as the microcosm we saw at the Bundy Ranch, have been perpetrated upon the people by administrations from both sides of the aisle and, at the root of the problem, is that dirty word…"extortion."
When the mob or, today's neighborhood gangs threaten business owners into paying protection money in order not to be robbed BY the mob or neighborhood gangs…it's extortion and what the federal government has been doing for far too long amounts to the exact same thing.
Here's how it works…
The federal government "gifts" to the states, and for the purpose of this scenario, we'll use the western states as the primary example as that is where the overwhelming vast majority of federal land grabs have taken place…"gifts" the states with federal dollars for such as roads, bridges, levies and other infrastructure projects.
In return for the federal government's acts of kindness and "protection" from having to fund repairs on their own, the feds then "ask" for and have received over the years, more and more access to the land OF those western states.
The federal government then bamboozles the people of those states by calling those lands…