By Craig Andresen and Diane Sori / RIGHT SIDE PATRIOTS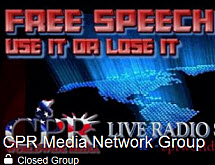 Over the past few days, we have been asked, "what happened to CPR?" Many of our readers and listeners have wanted to know why we weren't on the air and why the CPR station wasn't active.
It's time to provide some answers.
There are two old adages that come to mind…first…all good things must come to an end, and regrettably that is the case with cprworldwidemedia.com. Due to the serious nature of the network's CEO's health concerns, he is no longer, at least at this time, able to keep the station up and active.
Several of us, in his absence, did all we could to keep CPR a viable entity but at the end of the day, we simply lacked the proper resources or the necessary protocols to continue. Sadly, last week, we were left with no choice but to allow the lights to be turned off, the doors to be locked, and the station to go dark.