Tuesday, March 25th, 2014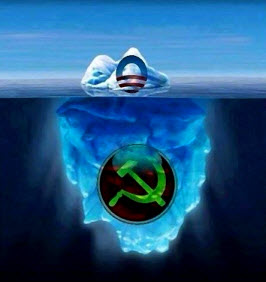 Last week, Nancy Pelosi scolded some hapless reporter for using the term, "Obamacare."
AFFORDABLE Care Act the old bat insisted.
"AFFORDABLE…affordable…affordable…
Affordable…AFFORDABLE. The "Affordable" Care Act."
She repeated it and repeated it in the face of all reality because, even SHE knew that linking such an abject disaster to the Dictator was and is a pariah to her party which gave me pause to coin a new and more accurate moniker for the wretched boil.
The boil being Obamacare and not Pelosi who is something more of a hemorrhoid than a boil but, I digress.
Socialismcare.
That is exactly what it is and what I shall now be calling it.
Socialismcare being only the tip of the Dictator's iceberg.
Anyway…
About a week ago, Kathleen Sebelius was asked about the prospect of rising socialismcare premiums and her response was classic.
"The increases are far less significant than what they were prior to the Affordable Care Act."
Ask her how many people have signed up for socialismcare and Sebelius will give you and exact number.
Ask Sebelius how many of THOSE dupes have actually PAID for their socialismcare premiums and she'll tell you she has no way, at this time, of knowing.
How many YOUNG, HEALTHY people have signed up and paid THEIR money for those who are older and less healthy?
Surprise of all surprises…