Thursday, April 3rd, 2014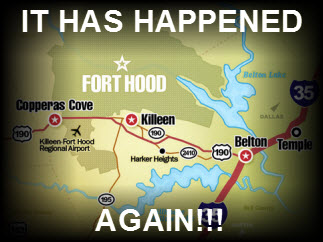 When will it finally dawn on this administration that gun free zones are prime targets for those who don't give a damn about other people's lives?
Ft. Hood 2009.
A number of schools.
A movie theater.
The DC Navy yard.
The Navy Yard again.
And yesterday…Another shooting at Ft. Hood Texas.
Early reports regarding yesterday's shooting had 3 dead soldiers, 1 dead shooter, Ivan Lopez, a U.S. Army Specialist who shot himself and some 16 wounded.
Those numbers may change but the key to those early reports was the manner in which the shooter was taken down.
By his own hand.
At Ft. Hood nearly 5 years ago, the terrorist Hassan was cut down by a civilian contractor Security Officer.
At the DC Navy Yard in 2013, Arron Alexis was killed by the DC Police.
That is because, on all MILITARY installations…Those on them are NOT allowed to carry weapons.
This is NOT a new regulation by any means and those blaming this on Obama need to step back. The regulation banning guns from our military basses is some 20 years old…