By Margaret Smith on May 23, 2011
We have so many Federal regulations affecting businesses that small and large companies had to create positions just to deal with the "shackles of government"; now that is job creation!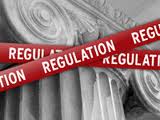 Consider how the US EPA started, officially it is stated as December 1970, yet was truly revolutionized in 1962. This time frame is when Rachel Carson wrote "Silent Spring" in serial form in the New Yorker. The article was about pesticides and its effect on the bird population. Because of its popularity from readers the book was published and started a grass roots movement of environmentalist. Today, because of his books influence we have, " 14,000 scientists, lawyers, managers, and other employees across the country to fight the good fight for "environmental protection." Many of us probably would not be so concerned about the USEPA if it was only fighting pesticide companies.