Be sure to Click LIKE at the bottom of this article, and share it everywhere!!
By Craig Andresen – Right Side Patriots on American Political Radio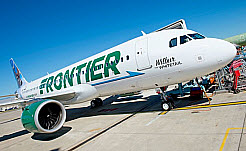 Last Tuesday, at Orlando International Airport, is where an unidentified passenger tried to take something onto a plane, and the airline told the woman…no way.
The woman was about to fly from Orlando to Cleveland on a Frontier Airlines flight and in a small tote, she had something that the airline told her she could NOT keep on board.
To be fair, the woman, when she paid for her ticket online, did add that she would be traveling with…a support animal. People travel with support animals all the time. Some people have emotional support dogs…others have, perhaps, an emotional support cat.
Whatever the case…most airlines allow most support animals to fly with their emotionally needy people, but…when this woman got on board, and the Frontier Airline flight attendant saw her emotional support animal…she was told that she could not…no way, no how…remain on the plane with an emotional support…