The Dictator wants us to all shut the hell up and quit talking about Obamacare and Benghazi. Just hush. It's not important enough to be part of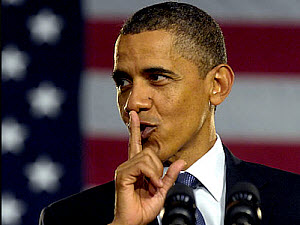 the discussion going into the 2014 midterm elections.
SHUT UP ALREADY!!!
ZIP IT!!!
Obama made his comments Tuesday to a gaggle of well-heeled donors at a fund raiser.
"Yes, we can have a legitimate debate about does every government program work … [but] the debate we're having right now is about, what, Benghazi? Obamacare?  It's not serious [and] is not speaking to the real concerns that people have."
GOOD GOD Y'ALL…STIFLE YOURSELVES ON BENGHAZI AND OBAMACARE!!!
Obamacare, according to the Dictator, just doesn't speak to the REAL concerns that people have…like how in the hell they can afford to pay more for their healthcare insurance…how they can't see the doctors they've had for years…how in the hell they'll ever come up with enough money to cover their newly sky high deductibles…why the cost of their prescriptions in many cases have gone into orbit up 700% over what they were paying just months ago and why they now have to make important and life altering decisions with a 15 member panel of bureaucrats rather than with their doctors.
You know…the thing is Obamacare just doesn't "speak to the real concerns that people have."
Given the more than a Mount Everest sized "smidgeon" of corruption over at the IRS…