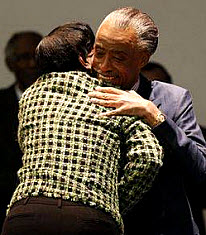 About a week ago, master race baiter Al…not so Sharpton, attended a 'Voting Rights' rally in Cincinnati Ohio where he embraced one Melowese Richardson.
You remember Melowese…don't you?
Melowese Richardson is the woman from Ohio who, nearly 2 years  ago, voted.
She voted and she voted.
Then she voted again…and again.
Melowese Richardson then voted some more.
By the time she was done, she had voted at least six times, for Obama, in the same election.
Oh, I know there's no voter fraud because Holder and Obama, Sharpton and Jackson along with numerous other liberals and socialists have told us that there is no voter fraud taking place and that's why we don't need any voter ID laws.
Liberals and socialists say that you and I…Conservatives…are just making this crap up because we're racists who don't want black people to vote.
Never mind that ol' Melowese admitted to it. WE'RE just making THAT up too I suppose but let's allow Melowese to tell HER side of the story…