By Craig Andresen – Right Side Patriots on American Political Radio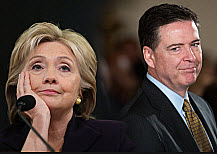 "I think she was extremely careless. I think she was negligent. That I could establish. What we can't establish is that she acted with the necessary criminal intent."
Those were the words of FBI Director, James Comey, last July, as he told Congress and the American people that he was not going to indict Hillary Clinton due to what he called a direct lack of evidence that showed "intent," and I believe nobody was less surprised by that inaction than was Hillary Clinton herself.
On Tuesday…in yet another document dump by WikiLeaks…
Intent shown.
"On another matter….and not to sound like Lanny, but we are going to have to dump all those emails."
Those were the words of Hillary's campaign chairman, John Podesta, written in an email exchange with Hillary's close aide, Cheryl Mills, just as news of Hillary's private email account and private server…both illegal…was breaking in the NY times.
If, as Hillary has steadfastly claimed, the emails she erased or deleted…were nothing but her personal emails regarding yoga classes and Chelsea's wedding…