By Craig Andresen – The National Patriot and Right Side Patriots on cprworldwidemedia.com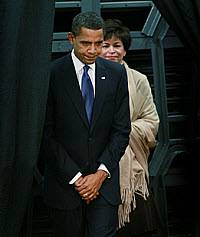 Well, well, well…
It seems the mosque on the hill has sent their Imam out to beat the media about the head and collective shoulders with a drop it and desist order.
Regime Imam Valerie Jarrett has been presented to the cameras to try and put an end to the "why didn't you send someone to Paris for the Unity March last weekend" questions because the town liar, Josh (anything BUT) Earnest can't weasel his Muslim boss out of this regardless of the lathe-like rate of spin he's employed over the last few days.
According to the Imam:"I think as we saw, certainly we would have loved to participate in the parade, I remind you that Atty. Gen. Holder was in Paris for a very important meeting…I think we certainly got the substance right but it would have been great joy to participate in the parade, and we're glad that Secretary Kerry is there now."
So…turning your back on our oldest ally is…'getting the substance right?'
Only if you're an Islamist.
Here's the basis for the Imam's appearance.
Last Sunday, in Paris, world leaders or their close counterparts met to stand against our regime's ideology…Islam…in the wake of the terrorist attack and assassinations of members of the Charlie Hebdo staff and two police officers.
Glaringly absent from the courageous stand was one Barack HUSSEIN Obama.
Ever since…the lies from the white house have been coming at a fast and furious rate.
Speaking of Fast and Furious…