By Craig Andresen – The National Patriot and Right Side Patriots on cprworldwidemedia.net
So why exactly is religion…most specifically the Christian religion, under such blistering sniping from liberals?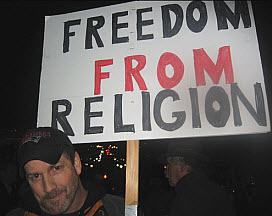 We are seeing this on nearly a daily basis and the new Indiana law is nothing more than the cause du jour for the left. From Al, 'the reverend' Sharpton's buffoonish quote, "This is a key moment for the country. Too often in our history, we've seen religion used to justify attacks on other people's rights, from slavery, to Jim Crow, to women's right to vote," likening religious freedom and slavery AND  to Obama's chastising of Christians on Easter Sunday…"On Easter, I do reflect on the fact that as a Christian, I'm supposed to love, and I have to say that sometimes when I listen to less-than-loving expressions by Christians, I get concerned, but that's a topic for another day."
Liberals are quick to condemn religion and to sue over any visage of religion seen in public and they are just as quick to stand up for a freedom FROM religion rather than take up for the Founders and Framers in their vision that "Congress shall make no law respecting an establishment of religion, or prohibiting the free exercise thereof…" but to be fair…it is only the second part of THAT statement that lights their delicate, easily offended sensibilities on fire.
So what IS it about religion that liberals find so damn distasteful anyway?