By Craig Andresen and Diane Sori –  Right Side Patriots on cprworldwidemedia.net
In timing eerily reminiscent of the start of the '67 Yom Kippur War, yesterday after a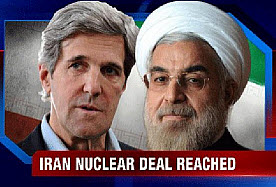 one-day extension, as both Passover and Good Friday were mere hours away, suddenly and miraculously a preliminary deal…a 'framework' for moving Iran closer to becoming armed with nuclear weapons…has been reached. And it was reached quite coincidentally as most of the deal-contesting P5+1 members had already gone home to their respective countries.
And so it seems that Barack HUSSEIN Obama has gotten his wish of selling out both America and Israel to those wishing to kill us all as both John 'Swiftboat' Kerry and the Obama regime itself further bow down and make concessions to the demands of Iran…demands which should leave nobody wondering just exactly who, in all of this 'negotiating,' has been calling the shots all along.
NOT quite negotiating puts it mildly as Iran had recently demanded that all sanctions against them be lifted, especially those that had been most effective in crippling their economy and that the near decade of imposed watching over their nuclear program by the IAEA also be eliminated as a term of any 'deal' to be reached. Other demands made by the Islamic Republic of Iran have included that they not be forced to send their already refined and stockpiled uranium to Russia for 'safe keeping' if you will…to keep it from being used and incorporated into nuclear weapons.
What should have been a deal breaker…