By: Craig Andresen and Diane Sori / Right Side Patriots on American Political Radio
The British came and now the Israeli's are coming, and they are coming after Rudy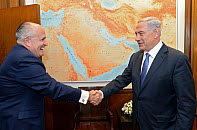 Giuliani hand delivered a personal letter from President Trump to Israeli Prime Minister Benjamin Netanyahu.
And there is more to this than first meets the eye as key Israeli leaders and politicians will be descending upon Washington D.C. to forge new ties with the (thankfully) Trump administration, and doing so in the short span of the next few weeks and months.
The first to meet with President Trump and his administration will be Israeli Prime Minister Benjamin Netanyahu, who was personally invited by Trump to visit the White House during their phone call after Trump won the election. And while a definitive date has not yet been finalized, Netanyahu is expected to fly into Washington the first week of February to meet not only with President Trump, but also with Vice President Mike Pence, Secretary of State Rex Tillerson, and numerous Congressional leaders.