By Craig Andresen – Right Side Patriots on American Political Radio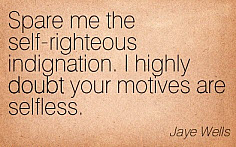 Self-righteous indignation is defined as: "Confident of one's own righteousness, especially when smugly moralistic and intolerant of the opinions and behavior of others, which do not match their own." and dare I say it…there are two groups who, in today's politically-charged American culture, embody that definition to a tee.
The first, of course, are liberals.
Liberals feel entitled to what others have earned through hard work and tenacity. Liberals claim the right to be offended by those who think, or believe differently than they do, and they believe their offense takes priority over our actual rights as outlined in the Constitution.
Liberals go stark-raving, foaming at the mouth mad when they don't get their way, or when what they feel entitled to is not simply handed to them on a silver platter.