By Craig Andresen Right Side Patriots http://www.americanpbn.com/
Just a couple of days ago, Donald J. Trump gave his first big speech on foreign policy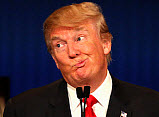 where he had promised to name the names of the best and brightest who would be advising him. In fact, he made that promise on Morning Joe…just a few short hours before giving the speech.
He didn't name a single advisor. Not one. Zip…zilch…zero.
It wasn't that naming names just slipped his mind…because the entire speech was read from a teleprompter. Had there been names to name, as Trump had promised…those named names would have been in the teleprompter for Trump to name…or read…but they weren't, because they don't exist.
This is something Trump would have known before his appearance on Morning Joe…that he didn't have any names to name, but he said he would name them.
Oh my…