By Craig Andresen – Right Side Patriots on American Political Radio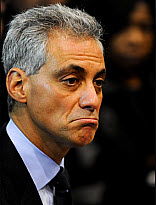 Last week, Attorney General Jeff Sessions issued what is, for the moment, a threat and only time will tell if it becomes a promise, that the DOJ will withhold anti-crime funding from the cities of Baltimore, Albuquerque, Stockton and San Bernardino should they fail to change their ways, and begin to cooperate with federal immigration policies.
All those cities mentioned, and so many more, are sanctuary cities, and all of them, and more, are fit to be tied over that threat.
Even Rahm Emmanuel, the uber liberal Mayor of Chicago, is spitting mad to the point that just yesterday, on behalf of his gun-free target rich sanctuary city, he filed a lawsuit against the DOJ over the demands that immigration policy be followed…or else.
Frankly, I fail to see the problem, and perhaps more to the point, I fail to see why the aforementioned cities have their panties in a wad over the possible loss of funding.
To begin with, one must understand the nature of the funding in question.