Wednesday, January 18th, 2012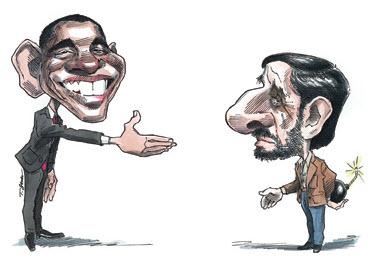 In what will only be seen as a direct and clear sign of weakness, reports have leaked of a letter sent by Obama to Iran asking for direct talks regarding Iran's nuclear program and the issues surrounding the Strait of Hormuz!!
Iran, which weeks ago, became the recipient of a top secret drone which went astray and landed itself in pristine condition I Iran, yesterday taunted Obama by offering to send a plastic toy model of the drone to the white house.
In a previous and clear sign of weakness, Obama has asked Iran to return the drone but refused to either destroy it or attempt to retrieve it.
Patriots…IRAN HAS OBAMA AND THE UNITED STATES EXACTLY WHERE THEY WANT HIM AND US!!!
Iran is currently holding a former Marine on charges of spying and has sentenced him to death. They have the drone. They are now refining uranium. Ahmadinejad has been traveling and joking with Chavez and Castro about HAVING a nuke and USING it against the United States.
Iran has threatened to close the Strait of Hormuz.
Last week, the U.S. called off joint naval operations with Israel.
NOW, IF REPORTS OF THIS LETTER FROM OBAMA TO IRAN PROVE TRUE…
IRAN IS LAUGHING AT THE UNITED STATES AND THE WEST IN GENERAL!!!