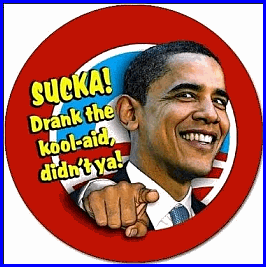 One of the key selling points employed by Obamacare snake oil salesmen was SUBSIDIES!!!
"STEP RIGHT UP…GET YOUR SUBSIDIES HERE!!! THIS WILL CURE WHATEVER AILS YOU…OBAMACARE…THE MIRACLE ELIXIR WITH A SECRET INGREDIENT…SUBSIDIES!!!"
To liberals, that meant something for nothing.
To those with a working brain cell…it meant $1 TRILLION DOLLARS of AMERICAN TAXPAYER MONEY as part of THE largest tax increase in American history.
Yesterday, 2 federal courts offered up two opposite opinions on that spoon full of sugar-coated crap in the Kool Aid pitcher.
Let's take the second opinion first.
The Fourth Circuit Court of Appeals, hearing a case challenging the subsidies related to those who somehow managed to sign up for socialism on that malfunctioning Obamacare federal website and THEY found that the subsidies were A-ok and upheld the federal government's ability to give your tax dollars to the something for nothing crowd.
Now…the first court decision from yesterday…
A three-judge panel of the U.S. Court of Appeals for the District of Columbia ruled 2-1 that those subsidies, to be paid to the something for nothings who signed up on the federal site are null and void.
Oh my, what are we gonna do NOW?
Well, according to the lone dissenter from the DC Court of appeals…"This case is about Appellants' not-so-veiled attempt to gut the Patient Protection and Affordable Care Act ('ACA')."
Hmmmmm…
Not so fast there Judge Panties-in-a Wad…