By Craig Andresen and Diane Sori  / RIGHT SIDE PATRIOTS ON on American Political Radio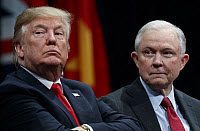 When the American people elected then candidate Trump to become President Trump, they did so in part to "drain the swamp," and in part to go after both high level members of the Obama regime and to have investigations launched into high level misdeeds.
Senator Jeff Sessions quickly inserted himself into the inner circle of the Trump campaign becoming an adviser on nearly every decision or policy proposal Trump made during his campaign. And either Sessions himself or one of his team crafted and helped communicate Trump's campaign immigration policy platform. And Sessions became the chair of Trump's National Security Team, also helping Trump pick his V.P. running mate.