By Craig Andresen – Right Side Patriots on American Political Radio
The real shame of racism in the U.S. is that racists are controlling the national dialogue, while non-racists are allowing it to be that way. To discover just how true that statement is, and why it's true, o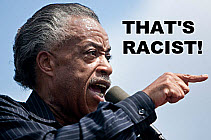 ne first must identify just who the real racists are.
Historically speaking, the real racists in America have enjoyed a singular political party affiliation…to the democrat party.
Democrats fought for slavery. Democrats founded the Ku Klux Klan. Democrats developed Jim Crow laws. Democrats stood for segregation. Democrats initially blocked the Civil Rights Act and democrats invented Affirmative action….the process of separating blacks and people of color from the rest of the nation for the business of protecting and advancing people based solely on race, regardless of their abilities as individuals.
Those are all historical facts, but today's democrats, today's liberals, are no less racist than their historical political party predecessors.
Today, driven by liberal ideology, and the liberal agenda, if you're black… Continue reading →