By Craig Andresen – Right Side Patriots on American Political Radio
James O'Keefe, whose Project Veritas Action is in the business of outing political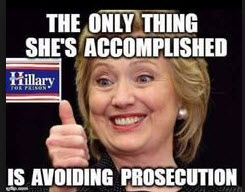 corruption and has outed Planned Parenthood for their politically tied, despicable and immoral activities, now has the goods on one Hillary Clinton.
Through a series of sting videos, Project Veritas Action has exposed Hillary's operatives and their corruption tied to the 2016 election, and now, in the third tape of the series…
Project Veritas has captured, on video, several of Hillary's operatives admitting that Hillary herself was not only aware of some major corruption…but authorized it.
That's right…we're talking felonies here…and Hillary authorized them with full knowledge…and with clear intent.
The law she broke in this case, 52 U.S.C. § 30109(d)(1)(A)(i), involves the willful creation of coordinated expenditures from prohibited corporate sources.
According to O'Keefe himself…