By Craig Andresen with contributions from Diane Sori – Right Side Patriots on American Political Radio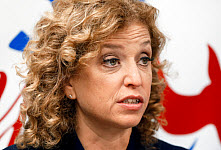 Debbie Wasserman Schultz is finished…or she should be
Last week, her IT officer, one Imran Awan, was arrested as he attempted to flee the United States for Pakistan, with a layover in Qatar…the very country that specializes in being the halfway house for former GITMO terrorist inmates as they reenter their natural workforce in various terrorist fields of endeavor.
Imran Awan had, just a few months ago, wired nearly $300,000 dollars to relatives in Pakistan, and his wife, Hina Alvi, a Congressional aide to New York Democrat Gregory Meeks, soon after that, fled the United States for Pakistan with more than $12,000 in cash stashed in her bag.
Trust me, it get plenty worse.