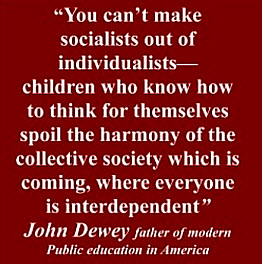 Common Core is a fool's curriculum but it IS necessary for the liberal ideology to of complete government control of the people to become the accepted method of governance.
Let me explain.
Too many years ago, when I was a public school student, 2+2 equaled 4. Everybody knew it and if you happened to write down 5 as your answer you were docked for it. If you stood your ground and argued the point long enough and without reservation, there was a good chance you would find yourself taking the same math class over next year while all your friends moved on.
Today, thanks to Common Core, you can proudly say that 2+2 equals 5 and get a plaque and a pat on the head if you simply explain WHY you think the answer is 5. Nobody will criticize you, nobody will dock your grade and along you go to the next level of common core math.
At this point in a rather nutshell sort of way, it should be noted that during those early years of my public school education…we sent a man to the moon and returned him safely to the earth and while it was Neil Armstrong, Buzz Aldrin and Michael Collins who made the trip…they were sent there by people who knew damn well that 2+2 equaled 4…NOT 5 and were considered to be at the top of their class.
Common core math is but a singular example but know that Common Core encompasses the entire curriculum from math to social studies, history to science and everything in between. It is meant to change the way children think thus, changing the way future ADULTS think and make them all part of the collective and while some states are dumping it, far too many are not.
Remember…"It takes a village to raise a child."
What we are watching as it happens in our country today is…