By Craig Andresen – The National Patriot and Right Side Patriots on cprworldwidemedia.com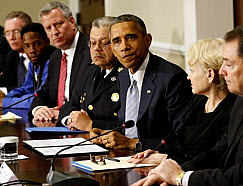 According to reports after Monday's meeting of racists and race baiters at the Whitey House…
"Obama made a forceful pledge on Monday to use his last two years in office to address the "simmering distrust" between police and minority communities as he requested $263 million for the federal response to the civil rights upheaval triggered in Ferguson, Missouri."
Well, FINALLY…a plan to throw taxpayer money at a completely fabricated issue. THAT'S just what we need and, dare I say, for a quarter of a billion dollars, no doubt borrowed from China, Obama should be able to take this from a "simmering distrust" to a FULL BOIL of seething hatred.
The local issue of Ferguson became the subject of a cabinet meeting on Monday and sitting in with the ilk of the regime were…Marc Morial, president of the National Urban League…Janet Murguía, president and CEO of the National Council of La (ILLEGAL aliens) Raza and…Al Sharpton – race baiter emeritus.
Yep…problem solved huh?
According to Sharpton…"WE ARE NOT LOOTERS…WE ARE LIBERATORS! WE ARE NOT BURNERS…WE ARE BUILDERS!!!"
Ummmmm…..