By Craig Andresen – Right Side Patriots on American Political Radio
Collusion with the Russians.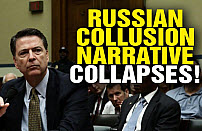 Yes…it was real. Yes…it did indeed take place. It just wasn't as Hillary, liberals at large or the liberal propaganda arm known as the mainstream media made it out to be.
Not even close.
At the center of this swirling toilet bowl of organized crime is a floating old turd named Hillary Clinton, but she is most definitely not the only deuce in the pot. So too are Barack Hussein Obama, Eric Holder, Loretta Lynch and of course, James Comey.
Now is the time for Attorney General Jeff Sessions to prove he's something other than a nutless wonder, or he'll be joining the rest of the spiraling turds to the sewer.
The evidence is all there…