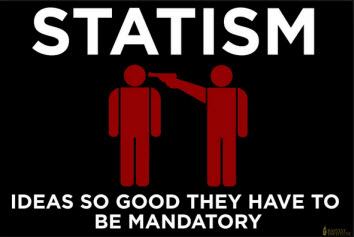 Slowly, quietly, over decades of regulation by unelected bureaucrats and with the assistance of those elected to pass legislation to advance the cause of life, liberty and the pursuit of happiness who have done everything but, lands that once belonged to private individuals and families have been ceded first to the state and then, to the statists.
After decades of backroom deals, bribes, pocket lining and dirty deeds, the land of the western United States now belongs to the United States government.
Just days ago, in a meeting scheduled well before the Battle of Bunkerville, legislators from 9 western states gathered with the goal of kicking the U.S. government off those lands and out of those states.
Bunkerville and the Bundy's were merely the tipping point of a situation that had already gone well beyond enough is enough.
Ronald Reagan once said that "government is not the solution to the problem…Government IS the problem," and those words ring as true today, if not more so than they did when first spoken.
According to Idaho Speaker of the House Scott Bedke…forests, wetlands and range lands in his state have fared better and suffered less damage from watersheds and fires than have lands in his state that are under the control of the federal government. There is a good reason for that too. Lands that are managed by the state are lands that are closer to the people who live on or near them than are lands managed by those in Washington DC but there are other reasons too.