By Craig Andresen – Right Side Patriots on American Political Radio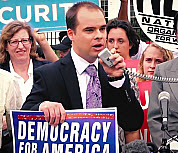 According to Neil Sroka, a liberal activist and spokesmouth for "Democracy for America," which sounds suspiciously like "Organizing for America," the 2018 strategy for his party's midterm success should include the impeachment of President Trump.
Here's exactly what he said…
"Democrats should run on an inclusive, populist agenda of free college and paid family leave, but shouldn't shy away from supporting impeachment."
Oh…please make that the foremost plank in the liberal/socialist party strategy.
PLEASE!!!