By Craig Andresen – Right Side Patriots on American Political Radio
Imagine, if you will, a cliff at the brink of a bottomless abyss and the only thing there, as a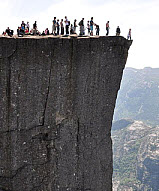 barrier, is an electric fence.
Form that image in your mind and I promise I'll get back to it before I'm finished here.
In scantly 3 weeks, on November 8th, America will have a choice to make. The stakes couldn't possibly be higher, the ramifications couldn't possibly be more dire nor could the consequences of that decision be more important, not only here at home, but around the world.
Like it or not, we are the balance in a world that's on fire and near the tipping point. We are the world's police. What we do, where we stand, and how we react have consequences and ripple effects that reach far beyond our shores and set the tone for both our allies and for our enemies.
I, like so many others, am sick and tired of being faced with voting for the lesser of the two evils. But I, like far too few, realize that no matter what, we will always be faced with voting for the lesser of the two evils.
Yes, I realize that there are many who, because of that aspect of the election, have decided to stand on their own island of pride, and write in a candidate's name or vote for a 3rd party candidate because, according to them, it's the moral thing to do, or it serves well their conscience.
I have a question, actually several questions, for those folks.