By Craig Andresen – Right Side Patriots on American Political Radio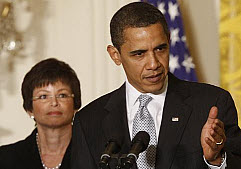 Now that Obama is out of power and making between $400,000.00 and $600,000.00 per speaking engagement, once highly placed members of his regime have been sent forth to spread propaganda aimed at bolstering his regime's misdeeds.
Valerie Jarrett, the Obama puppet master was recently at a conference where she proceeded to extol the virtues of the man who once claimed he would fundamentally transform America.
What she told the socialist collective at that gathering was nothing short of…stunning.
Jarret told the audience, who had come together in a combination of sorrow over the election loss of Hillary Clinton, outright hatred of President Trump and for a group drool over Barack Hussein Obama were three fundamental transformations that Obama had enacted that were specifically meant for black people.
Not that his was a racist presidency…no…that simply couldn't be…but these three things were apparently not meant for all Americans…just for black Americans.
First…