By Craig Andresen – Right Side Patriots on American Political Radio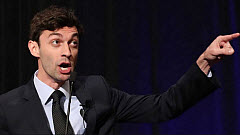 Last Tuesday night couldn't have gone any worse for liberals unless Megyn Kelly had showed up on CNN to try and spin the special House election in Georgia their way.
As it was, the CNN fake news brigade was a bit long of face when it was over and all the votes had been counted. The outcome was not what they had hoped for, and it certainly wasn't what liberals nationwide had paid through their noses for.
That special election, to fill a House seat from Georgia had become the most expensive campaign in the history of the house by the time all was said and done, as liberals from sea to shining she ponied up more than $24 million dollars to try and buy the seat for their candidate, Jon Ossoff.
They failed.