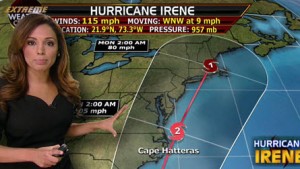 For days now, the news has been full of predictions…Hurricane predictions. Irene has been bearing down on our east coast as it crossed the Bahamas. You never really know with a hurricane…category 3, category 4, category 2…as they move they gain and lose power but, all the computer models showed this one WAS going to hit the coast at SOME strength.
This storm was so immense that when it hit and as it rolled up the coast, it would affect nearly 20% of all Americans. There would be flooding, wind damage, coastal erosion and mass power outages from North Carolina to Boston.
We have known of this storm and its potential for damage for nearly a week. Emergency officials in those areas expected to be hit and hit hard, ordered mandatory evacuations, ordered extra body bags, issued stern warnings that if you stayed, and then needed help, it would not be coming to you because you were told to leave and you didn't.