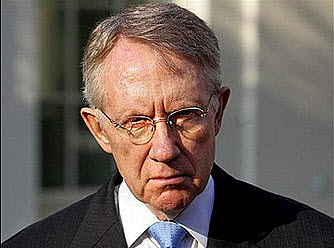 Well, THIS is just getting to be PRICELESS!!!
Did ya happen to hear Ol' Crusty…HARRY REID…the other day?
HOW COULD YOU HELP BUT HEAR HIM??? He was literally SHOUTING when he opened his pie hole and told anyone within a 3 mile radius that, when it comes to Obamacare…
 "THERE'S NO HICCUP OR DELAY!!!"
Then, he told reporters why the hiccups and delays that DON'T exist…EXIST!!!
"We have hundreds of thousands of people who tried to sign up, and they didn't get through."
After THAT…Crusty ELABORATED.
"There are some people who are not like my grandchildren, who can handle everything so easy on the Internet and these people need a little extra time." As an example…Crusty cited, "a 63-year-old woman came in and said 'I almost got it, [but] every time I was just about got there, it would cut me off.'"
THAT, to anyone with a working brain cell is because THE OBAMACARE WEBSITE SUCKS OUT LOUD and it has since the day it went UP but…Crusty, who happens to be sans a working brain cell explained it THIS way…