Be sure to Click LIKE at the bottom of this article, and share it everywhere!!
By Craig Andresen – Right Side Patriots on American Political Radio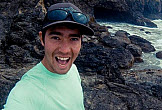 John Allen Chau's name has been splashed all over the news lately, and all over social media. To some, he's seen as heroic…as some sort of martyr.
The holier-than-thou crowd is putting this guy on a pedestal.
Normally, I wouldn't give a guy like Chau two minutes of thought, but I'll make an exception in this case because the notion of raising this guy to a level of near sainthood despite the reality of the situation is so absurd that it simply grinds on my nerves.
Those who are actively elevating this guy, Chau, past any reasonable level are doing nothing but trying to justify their own agenda in a cloaked, self-serving manner.
Where John Allen Chau is concerned…it's high time for a dose of reality…and here it is…
John Allen Chau isn't some sort of martyr…