By: Craig Andresen and Diane Sori / Right Side Patriots on CPR Worldwide Media / www.cprworldwidemedia,net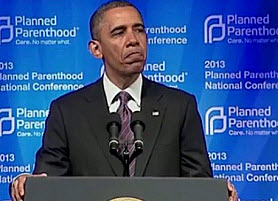 "As long as we've got to fight to make sure women have access to quality, affordable health care, and as long as we've got to fight to protect a woman's right to make her own choices about her own health, I want you to know that you've also got a president who's going to be right there with you, fighting every step of the way…Thank you, Planned Parenthood. God bless you." – Barack HUSSEIN Obama's 2013 words said during a speech at a Planned Parenthood event.
Abortion is legal in this country with the right of a woman to have an abortion being upheld by the courts on the local, state, and federal levels. And that must be kept in mind by those on both sides of the abortion issue for while this is not an article on the moral or religious rights and wrongs of abortion, it is an article about how what should have remained a states issue now has become a federal issue as our taxpayer dollars are being used…and have been used since 1970…to aid Planned Parenthood in their performing of almost half a million abortions a year…of performing one-third of all U.S. abortions.
Planned Parenthood…America's premier abortion mill…and the very group that actively lobbies against abstinence-only education in our nations public schools…has always had a somewhat dubious reputation as its founder, Margret Sanger, believed that blacks and the poor were "unfit" to reproduce…and basically founded it as a way to 'eliminate'…if you will…the black race in America. Now bringing the word 'dubious' to a new level, Planned Parenthood is under the microscope…they claim…for just trying to help women who want to 'donate' fetal tissue for legitimate medical research. But nothing could be further from the truth as Planned Parenthood is being paid monies for the organs it takes from aborted babies…directly contradicting the very word they use…'donated'…meaning given for free.