By Craig Andresen – The National Patriot and Right Side Patriots on cprworldwidemedia.net
It all started with Michaele and Tareq Salahi crashing a formal dinner…AT THE WHITE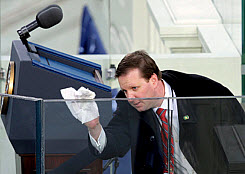 HOUSE…as the two reality TV stars made it past not one but TWO Secret Service checkpoints.
Then…there were 13 Secret Service agents who were caught soliciting HOOKERS and brought STRIPPERS back to their hotel rooms in Columbia. Three of them returned to work after an investigation…six either retired or were reassigned and the other 4 lost their security clearance.
Then…Ignacio Zamora…a Secret Service SUPERVISOR was discovered trying to get BACK into the Washington DC hotel room of a woman to whom he had given a BULLET from his SERVICE weapon. Apparently, he had met the woman in the BAR…went to her room and left her the bullet. When the woman REFUSED to allow him back in…Zamora went to the hotel staff and THEY called the White House.
The investigation found that Zamora AND agent Timothy Barraclough…both assigned to the presidential detail had allegedly been involved in misconduct for sending sexually suggestive EMAILS to a female agent.
Next up…remember the fake sign language guy at the Mandela funeral? He got passed the Secret Service with FAKED SECURITY CREDENTIALS and stood just three feet from Obama throughout the entire affair.
After that…THREE Secret Service agents were sent home from the Netherlands after a Saturday night of heavy drinking as one of them was found…PASSED OUT in the hotel hallway…ON SUNDAY MORNING!
Oh…there's more…