Sunday, June 15th, 2014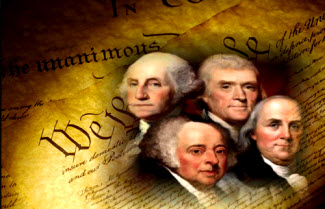 Under the 'leadership from behind' of Barack Hussein Obama, the world is going to hell in a handbag. The decline is staggering and we're witnessing the downfall on both a global and national scale.
Given the dire state of things now and the even MORE dire consequences to come, I am amazed at what some from both sides of the political aisle believe to be our greatest threats.
Our founders and framers entrusted to us, their future generations, the greatest nation ever created and I believe they would be aghast at what it's become…at what WE'VE become and how even we Conservatives plan to fix this damned mess.
Domestically…as a nation we are approaching $18 TRILLION dollars in the hole. $18 TRILLION dollars in debt and while our founders and framers knew we would need to borrow money from time to time, they also understood the need to pay off our national debt. That is one of the key reasons they set up our government to be a small, LIMITED government so as to leave as much money in the pockets of the people as possible and not burden them with the debts incurred by government.
Right now, as things stand, our great, great grandchildren wouldn't be able to pay back today's national debt if we quit our deficit spending here and now and we most clearly can't depend on our economy to save us. Not now. Not under Obama's ideology of entitlements being traded for votes.
In the first quarter of this year, after 5 full years of Obama steering the economic train…