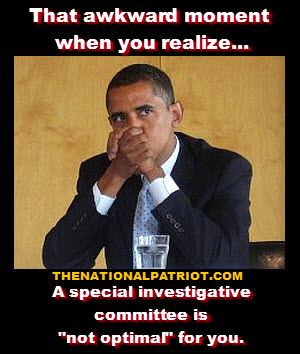 As the house is set to hold a vote regarding the need for a special committee to further investigate Benghazi liberals from Capitol Hill to their pundits microphones are pissed. They mask their anger by directing it at the right side of the aisle and in the direction of those of us who have, since day one, called for such an investigation and justice for those killed some 20 months ago but, at whom are they REALLY angry and why?
First, I suspect they don't care for the collective reflections they see in their own mirrors and staggering mountain of their own lies has become more than they have the capability to keep straight.
For the past week or so, we have been regaled with their sputtering utterances and faint echoes of Hilary's "WHAT DIFFERENCE, AT THIS POINT…DOES IT MAKE???"
For instance…on the heels of such nonsense as calling those who stood with Cliven Bundy and chased a wad of heavily armed federal goons from Bunkerville without firing a shot nothing but "domestic terrorists," ol' crusty Harry Reid made THIS lame attempt at dismissing a further Benghazi investigation: "Republicans are showing yet again that they have nothing to offer the middle class. Republicans care more about defending billionaires like the Koch brothers and trying to rekindle debunked right-wing conspiracy theories than raising the minimum wage or ensuring women receive equal pay for equal work."
Reid went on to say, "Republicans of trying to gin up yet another political food fight."
"Another political food fight???" That's what the murders of four Americans and this regime's cover up, with Reid's ample support is to him???
A political FOOD FIGHT??? It wasn't some FOOD FIGHT that night in September of 2012 that took place in Benghazi. THAT was a TERRORIST ATTACK set up to silence our Ambassador and keep him from blowing the proverbial whistle!!!
In a herd of political asses from the left side of the aisle…