It's a question we seem to be asking more and more often. What's next? This time we ask it of Libya. What's next for Libya? With Kaddafi dead, one of his sons dead as well and another son's whereabouts unknown…What's next?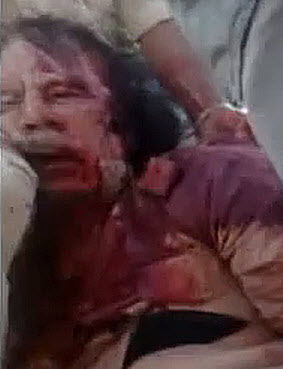 After 42 years of brutal rule, Kaddafi met a brutal end last week at the hands of Libyan Rebels in his hometown of Sirte.
Kadaffi, from what we know, was making a run for it in a convoy of some 75 vehicles when on the outskirts of town, a French Fighter jet and an American drone opened fire. Neither the French nor we knew Kadaffi was in that convoy and while many vehicles and those inside them were destroyed, Kaddafi's vehicle was not.
With rebels in hot pursuit, Kaddafi bailed out and ran on foot diving in to a culvert, a sewer pipe with a loyalist. That's where the rebels found him. From reports, the loyalist was yelling, apparently thinking those who were approaching were fellow loyalists, "The Master is here!" That is apparently when a rebel fighter fired into the pipe wounding Kaddafi then dragged him out while Kaddafi, who have vowed to fight to the last drop of blood started begging not to be killed.
That rebel fighter, wearing a New York Yankees baseball cap, disarmed the dictator of his golden gun and what happened over the next several minutes is somewhat unclear. There was shouting, chanting, gunfire, and Kaddafi, still alive for the moment, was paraded, pushed, shoved, beaten with shoes, hair pulled and roughed up from one vehicle to another, his shirt soaked in blood. Moments later, Kaddafi was dead of a gunshot to the head.