Ahhhh…Another Friday.
We've reached the end of the week and the beginning of a 3 day weekend. I know you're probably heading somewhere, to forget reality for a few days and, YOU, my Patriot friends deserve it.
LIBERALS on the other hand, are on a lifetime break from reality so THEY probably won't even notive the long weekend.
Let's ge5t it all started with a rather SNARKY look at the week that was. My friends and soon to be traveling Patriots…It's Friday and…
I'm fuming.
Okay…for all you liberals out there that think socialism is the GREATEST thing since the invention of BEAN SPROUTS AND BIRKENSTOCKS…allow me to explain to you the law of diminishing returns.
A few years ago…citing bogus claims of "GLOBAL WARMING…the Republik of Kalifornia decided to make gas companies put in a whole bunch of additives…to make gas burn cleaner…and before too long…they had THE most expensive gas in the nation.
Well…people didn't like that and, giving how Kalifornians LOVE to drive their cars…they started buying cars that get better MILEAGE.
Better mileage…less gas. Less gas…falling revenues from GAS TAXES.
DOH!!! What's a socialist state to DO when BIG government is put on a diet???
They started RAISING the gas tax to make up for the shortfall.
What did the PEOPLE do in response? THEY started buying gas/electric HYBRIDS so as to use LESS gas.
Less gas…less revenue…
AGAIN!!!
So now…with the nation's HIGHEST price per gallon and the nation's SECOND highest GAS TAX…The REPUBLIK of KALIFORNIA is AGAIN facing a revenue shortfall and what's their solution???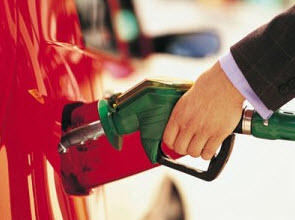 JACK UP THE TAX ON A GALLON OF GO JUICE BY ANOTHER .15 CENTS PER GALLON as of January 1st!!!
Happy freakin' new year.
It seems Kaiforrnia needs more money for GOVERNMENT PROGRAMS and the new tax will pour about $2 BILLION DOLLARS into the manure spreader but this new tax hike isn't just going to hurt those who drive around for the fun of it.
Businesses that DELIVER the goods ALL KALIFORNIANS buy and going to have to raise THEIR prices to compensate and then what happens? THE STORES THAT SELL THAT STUFF TO CONSUMERS WILL RAISE THEIR PRICES TO COMPENSATE FOR THE EXTRA COST OF GETTING THAT STUFF TO THE STORES IN THE FIRST PLACE!!!
Ummmm…using the law of diminishing returns…that means people will drive less and buy less because of the higher cost of both and…cities AND the state will see MORE declining tax revenues because of it all.
Here's just a wild idea for liberals…CUT THE SIZE OF GOVERNMENT AND QUITE SPENDING TAX DOLLARS ON GOVERNMENT ENTITIES THAT THINK THEY HAVE TO SPEND MORE MONEY TO COMBAT THE…WEATHER!!!
Fuming.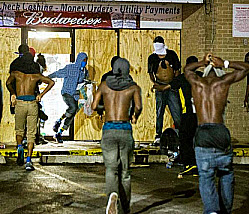 And speaking of the law of diminishing returns…
THERE BE LIBERAL IDIOTS LIVIN' IN FERGUSON MISSOURI!!!!!
Get this why don't ya?
The very LOOTERS and DESTROYERS of businesses IN Ferguson are now all PISSED OFF because…so many businesses in Ferguson got…LOOTED AND DESTROYED!!!
Helloooooooooooooo?
They're saying that "SOMEBODY need to come in an FIX dat crap…REBUILD dem businesses so people don't has to go all a couple of miles to get to da WALMART or to get GAS or der's gonna be HELL ta pay!!!"
Oh, don't take MY word for it…See for YOURSELF!!!

Did that last guy REALLY say that if the owners of the stores that were looted and destroyed didn't give…GIVE jobs to the very people who looted and destroyed them…THE LOOTING AND DESTRUCTION WOULD CONTINUE???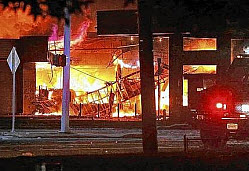 What we're dealing with here people, are the Valedictorians from the graduating class of the LIBERAL ASYLUM OF ABJECT STUPIDITY!!!
THIS…ladies and gentlemen…is why LIBERALS open WELFARE OFFICES instead of EMPLOYMENT AGENCIES…because their CLIENTS keep BURNING THE EMPLOYMENT AGENCIES TO THE DAMN GROUND and then demanding they still find them a job.
And you KNOW that twerp Governor in Missouri…Ray Nixon…is thinking…"SCREW GLOBAL WARMING…ya know…if we jack up the gas tax in this state…WE'D BE MAKING A MINT OFF THE MOLOTOV COCKTAILS!!!"
I'm fuming.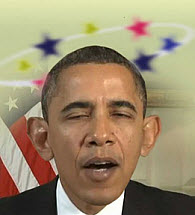 And finally…
If the first two topics in today's Friday Fume can be used as a guide…THIS segment should come as no surprise…
The DICTATOR,  fresh off his 2 week vacation to MARTHA'S GOLF COURSE…is getting ready for a trip to…ESTONIA AND WALES because, apparently they TOO have GOLF COURSES and they both play a HUGE roll in FOREIGN AFFAIRS but…he's also warming up his PEN to CIRCUMVENT CONGRESS…AGAIN…AND FOLLOW THROUGH ON HIS UNCONSTITUTIONAL PROMISE TO…FIX IMMIGRATION!!!
Here's the liberal insanity…
Because we have so MANY…ILLEGAL ALIENS HERE ALREADY…THE LIBERAL SOLUTION IS TO…BRING MORE OF THEM UP HERE!!!
It seems the ILLEGAL ALIENS squatting on U.S. SOIL just aren't all 'HAPPY, HAPPY, JOY, JOY' with the freebies…cell phones…education…food stamps…housing…welfare and the like…so Obama is going to bring their…FAMILIES HERE TOO!!!
THEY'RE CALLING IT…FAMILY REUNIFICATION!!!!!
We can't have just PART of an ILLEGAL ALIEN family up here SUCKING THE SYSTEM DRY…WE GOTTA HAVE ALL THE BROTHERS, SISTERS, COUSINS, AUNTS AND UNCLES UP HERE TOO!!!
WE'RE TALKING ABOUT MILLIONS OF EXTRA Jose's and Hose "B's" RUNNING AMOK…AND THE REGIME HANDING OUT ALREADY FILLED IN DEMOCRAT VOTER REGISTRATION FORMS AND GREEN CARDS LIKE CANDY ON HALLOWEEN!!!
And there's ol' GOVERNOR MOONBEAM…OVER IN THE REPUBLIK OF KALIFORNIA…INTRODUCING MEXICAN PRESIDENT introducing Mexican President, ENRIQUE PINATA…TELLING THE ASSEMBLED CROWD…"IT DOESN'T MATTER IF YOU HAVE PERMISSION TO BE IN THE UNITED STATES…YOU'RE ALL WELCOME IN CALIFORNIA!!!"
Have you ever seen ILLEGAL ALIENS getting out of a car???
THERE'S LIKE 3 DOZEN OF THEM CLIMBIMG OUT MID-SIZE SEDAN!!!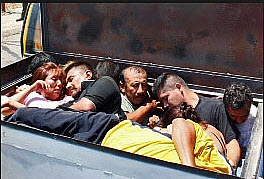 KALIFORNIA ISN'T GOING TO MAKE ANY MONEY OFF THEIR NEW GAS TAX IF MILLIONS OF ILLEGAL ALIENS ARE GOING TO BE CAR POOLING LIKE THAT!!!
And if all the FREE CRAP isn't enough to lure ILLEGAL ALIENS to KALIFORNIA…THE SCENERY IS…AFTER LAST WEEK'S EARTHQUAKE…NAPA VALLEY LOOKS AN AWFUL LOT LIKE GUATAMALA…ON A GOOD DAY!!!
And here's the best part…
WHILE OBAMA IS MAKING SURE ALL THE FAMILY REUNIONS TAKE PLACE ON OUR SIDE OF WHAT USED TO BE A BORDER…HE IS REFUSING TO CLOSE THE BORDER SO…MORE AND MORE HALF A FAMILY OF ILLEGAL ALIENS WILL JUST KEEP COMING…FOLLOWED BY THE MILLIONS MORE OF THE REST OF THEIR FAMILIES but that gets me to thinking…
WHAT ABOUT ALL THE DAMN TERRORISTS POURING ACROSS THE RIO GRANDE???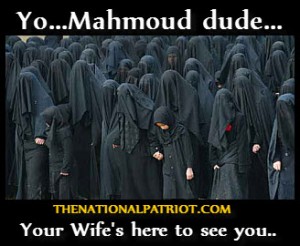 HELL…MAHMOUD ONLY SNUCK IN WITH 3 WIVES…HE'S GOT 11 MORE GARBAGE BAGGED BRIDAL BEAUTIES IN BUTTKRACKISTAN…LET'S BRING THEM ON OVER TOO WHY DON'T WE??? I'M SURE THEY'RE ALL WELCOME IN KALIFORNIA…FOR THE LOVE OF ALLAH…THEY HAVEN'T BLOWN ANYTHING UP IN BURBANK YET!!!!!
Oh, I can just HEAR the excuse the liberals are gonna use…
"Well, we HAVE to bring em all here…to do the jobs American's WON'T do."
Like what exactly? SELLING BLACK VELVET PRAYER RUGS WITH AIR BRUSHED PAINTING OF THE BURQA MARY AND THE BABY ELVIS ON THEM or…SECURING OUR DAMN BORDER?????
My friends and fellow Patriots…Today IS Friday and…
I AM FUMING!!!!!