By Craig Andresen – The National Patriot and Right Side Patriots on cprworldwidemedia.com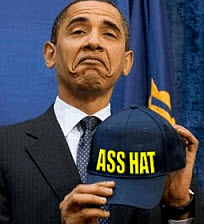 After Tuesday night's election results handed the asshat occupying the oval office his ass AND his hat…somebody, some reporter, was bound to ask THE question…and leave it to the New York Times lapdogs to have an inside source there to ask it.
How does the Dictator feel after a second coat of shellac?
According to that reporter…
Obama is "IRRITATED" with the outcome of the election but…"He doesn't feel repudiated."
I guarantee you that had the liberals and socialists held the senate, had they held the governorships of several key states including Illinoisistan, the ninny would have claimed vindication so clearly, perhaps more clearly now than ever before, he is delusional…unable to recognize reality…and therefore, unfit to further occupy the office.
"He doesn't feel repudiated???"