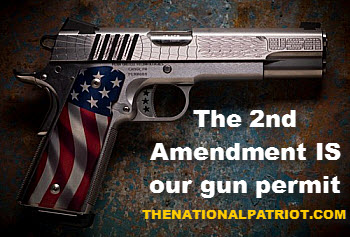 From Obama and his ballyhooed pen to the abject hypocrisy from the ilk of Feinstein and Schumer, every time a high profile crime takes place  involving a gun, more and more gun control laws are called for by liberals and socialists.
A shooting at a school?
More restrictive gun laws. That's the answer.
A shooting at a mall or movie theater?
More restrictive gun control laws will fix it.
Mass shootings on a military post?
Yep. You guessed it. More and more and MORE restrictive gun laws and you can just about bet your bottom dollar that, after last weekend's Bundy Ranch standoff where armed federal agents were intimidated into retreat by equally armed citizens, we're going to be hearing about the need to restrict We the People from our right to keep and bear arms…again.
It is abjectly absurd what liberals and socialists want you to believe regarding our right to keep and bear arms.
 "I, like most Americans, believe that the Second Amendment guarantees an individual the right to bear arms. And we recognize the traditions of gun ownership that passed on from generation to generation—THAT HUNTING AND SHOOTING are part of a cherished national heritage."
That, from one Barack Hussein Obama who claims to have been a Constitutional professor and wants you to believe that the 2nd Amendment was, of all things, about hunting.
HUNTING???
It is an oft parroted lie by liberals desperately trying to restrict the 2nd Amendment.
"Nobody needs an AR-15 to go hunting."
Here's one from that crackpot Diane Feinstein: