By Craig Andresen – The National Patriot and Right Side Patriots on cprworldwidemedia.net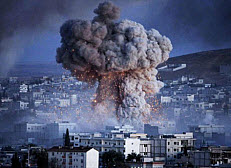 Considering the situation in Syria right now, as Russia continues to bomb ISIS command and control locations, such as they are, by bombing those who Obama has been arming, there seems to be a rather pressing question on the minds of those who are watching the escalation closely…
Will Putin launch a tactical nuclear strike against ISIS in response to the claims BY ISIS that they were responsible for shooting down a Russian passenger jet killing all 224 on board?
First, we need to examine what we know regarding the cause of the crash and right now, the reports are all over the board. ISIS claims that they brought it down and even released a video purportedly showing the Russian plane as a fireball in the sky. Egypt says ISIS didn't do it and says there is no proof that the plane broke apart in the air. The Pentagon claims they know as FACT that ISIS didn't bring down the Russian airliner with either a missile or anti-aircraft fire but that there WAS an explosion, picked up by satellite intel and that terrorism could not be ruled out.
Russia is heavily leaning toward the ISIS claim however, not even they seem quite ready to specify the exact means by which it was done.
To be clear…