Earlier, in "Corrupt Intentions…Dire Implications – Part 1," I outlined how FBI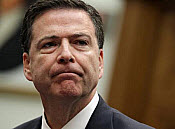 Director, James Comey, ignored a mountain of evidence that showed clear intent on the part of Hillary Clinton to break the laws of our land and how, whether or not she knew she was violating our laws, it should not have absolved her from prosecution.
I also stated that the implications of this ongoing situation were dire.
Let me jump right in and outline those implications and I'll start where nobody else is going…with James Comey himself.
If, as some reports are stating, Comey and the FBI had all of Hillary's emails well before last week's announcement and reopening of the investigation into her illegal private server and illegal private email account…and by well before, it has been reported that Comey may well have had access to what is now being characterized as the new discovery of 650,000 emails on the computer belonging to Anthony Weiner and his estranged wife, Huma Abedin, before last July when Comey himself testified to Congress that he lacked evidence of "intent" on Hillary's part and therefore declined to indict her…the implications are indeed dire.
If that is shown to be the case…