By Craig Andresen – Right Side Patriots on American Political Radio
One week ago, President Donald J. Trump delivered an epic speech at the U.N. General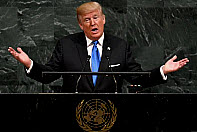 Assembly in which he blistered North Korea, Islamic terrorism and the rogue nation of Iran.
During that speech, quite possibly the best delivered by any American President since Ronald Reagan, President Trump also delivered a stinging and accurate rebuke of socialism.
In the process of delivering that speech just a week ago, President Trump stood with Israel, called out the United Nations as an organization and stood directly against the will and wishes of many of his own advisors.
While most of President Trump's speech was anything but politically correct, and was more accurately politically direct, there was one subtlety that went unnoticed by many, drew light disappointment by some, but stood out later in the day…