Be sure to Click LIKE at the bottom of this article, and share it everywhere!!
By Craig Andresen – Right Side Patriots on American Political Radio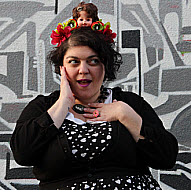 Randa Jarrar is, or was a tenured professor at Fresno State University who, last week, tweeted her disgust for former First Lady Barbara Bush upon the 92 year old death.
Jarrar tweeted, "Barbara Bush was a generous and smart and amazing racist who, along with her husband, raised a war criminal," and she added…"Fuck outta here with your nice words."
Jarrar also sent forth this tweet, "PSA: either you are against these pieces of shit and their genocidal ways or you're part of the problem. That's actually how simple it is. I'm happy the witch is dead. Can't wait for the rest of her family to fall to their demise the way 1.5 million Iraqis have. Byyyeeeeeee."
With a Fresno State University investigation under way, Jarrar is on leave for the rest of this semester, and she has left the country even as her supporters rally on her behalf.
Let's get something straight here…