Monday, April 7th, 2014
A Special Note From The National Patriot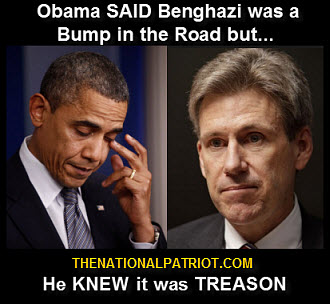 Today, neither Diane Sori, my Right Side Patriots radio partner nor I will be posting our regular article to our respective sites as we are currently researching and writing a 3 part collaborative series regarding the truth of the Benghazi attacks the mainstream media has ignored.
Tomorrow, my part 1 and Diane's part 2 of that series, "Benghazi – The Truth Exposed" will be published here in The National Patriot and in Diane's blog, The Patriot Factor.
On Wednesday, our co-written part 3 of the series will be published and, we will connect all the dots on Right Side Patriots on the CPR Worldwide Media Network from 2-4pm EST.
Please take the time to read BOTH Diane's and my blogs to learn what the media won't tell you and what the Obama administration does NOT want you to know!!!
It's time you knew the TRUTH!!!