By Craig Andresen – Right Side Patriots on American Political Radio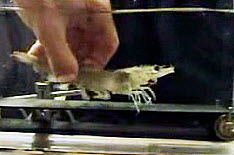 We all remember the shrimp on the treadmill…right?
That tiny, tasty crustacean, running his ass off on that little treadmill under water became a You Tube sensation once it was revealed that the U.S. government spent…HOW MUCH…on that particular study?
$682,570.00.
That's like a gym membership, a personal trainer, a house full of gym equipment so that you could ignore the gym altogether even though you had the membership, a new car, a boat, and a really nice new house in many parts of this great country…