By Craig Andresen Right Side Patriots
It's high time that the leaders of the black community, if they have any who actually qualify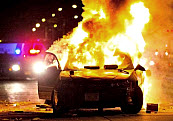 in that regard, step up to tell the truth about those who have usurped and hijacked their community, and it's more than time for the race-baiters of the black community, who purport to be leaders, to sit down and shut up.
The ilk of Obama, Jackson and Sharpton along with the ilk of Loretta Lynch, Elijah Cummings and others have done enough damage, they have done nothing to strengthen their so called community, and their actions, words and intonations regarding high-profile cases have, in fact, been nothing less than gas on the fire.
Over this past weekend, a cop in Milwaukee Wisconsin shot and killed a thug, Sylville Smith, and predictably, all hell broke loose.