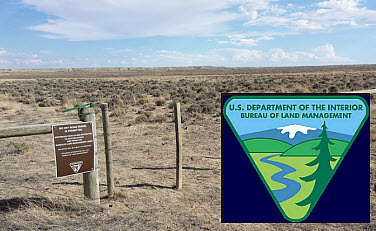 Acute.
It's a word one doesn't hear often, and more often than not, it's associated with some medical terminology. Acute nasal drip. Acute arthritis… something along those lines but the word acute has a specific definition.
Acute – adjective: acute; comparative adjective: acute; superlative adjective: acutest
(of a bad, difficult, or unwelcome situation or phenomenon) present or experienced to a severe or intense degree.
I want you to keep that definition front and center as you read what's coming next and it will light your hair on fire. In fact, keep it in mind throughout this shocking 4 part series of articles regarding government land grabs as it becomes more than abvious the "problem" isn't at all what the government wants you to believe.
The Obama regime, his DOI (Dept. of the Interior) and the BLM (Bureau of Land Management) are plotting behind closed doors to grab even more land in the western United States because, they are convinced there is an…"acute" problem of private landholdings in BLM administered areas to the sum of 412,675 acres, and no, we're not talking about Bunkerville here but, we might as well be.
So…of all the vast expanse of land out there, what's a measly little 412,675 acres? In the great scheme of things, it's only an inch on the scale.
Give em an inch…they'll take a mile…right?
Case in point…On the heels of the Bunkerville debacle, the BLM is now threatening to seize land in Texas along the Red River…the boundary between Texas and Oklahoma. Back in 1986, the BLM was successful in stealing 140 acres there. That's the inch. Now, they say THAT little land grab sets precedent for them to steal another…90,000 acres. There's the mile.
Well guess what? Utah congressman Rob Bishop has recently uncovered documents…inter-agency documents circulating between the DOI and the BLM that not only show the power and land grab is being engineered behind the closed doors of the most transparent administration in history and documents which would indicate Obama either has or is being encouraged to sign an executive order to bypass congress yet again for the specific purpose of eradicating their "acute" problem…NOT to the tune of 412,675 acres. Oh, no…no, no…TO THE STAGGERING ORCHESTRAL DIRGE OF SOME…13 MILLION ACRES!!!
What congressman Bishop discovered were 14 pages of such documents that the DOI and BLM have been stalling him on for months, and according to Bishop…